Our Productions
Research Films
As an important part of the Derek Jarman Lab's mission to develop the role of film in research activities, we collaborate with with academics from various fields and disciplines to produce short research films. This work is designed to explore ways that filmmaking can play an integral part of an overall research project, as well as being a vital tool for public outreach.
In September 2017 we premiered this short research documentary called 'Twins on Twins', directed by Dr William Viney:
Twins on Twins from The Derek Jarman Lab on Vimeo.
Click here to read about Dr Viney's thinking behind the film.
Here's a selection of other work that we have produced with various partners:
The Seasons in Quincy (2016)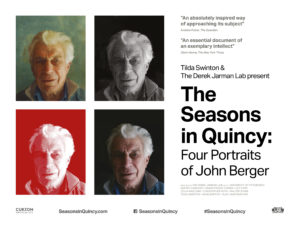 The Seasons in Quincy is the result of a five-year project by Tilda Swinton, Colin MacCabe and Christopher Roth to produce a portrait of the intellectual and storyteller John Berger. A sequence of four essay films, it places Berger in the rhythm of the seasons in his Alpine village of Quincy.
The Seasons is the Lab's first feature length film, which premiered at Berlin in February 2016, and is currently screening around the world. It made its theatrical release in the UK and Ireland in June 2017, and is now available to buy on DVD and watch on demand on the Curzon Artificial Eye website.
In Development
The Derek Jarman Lab is actively developing a slate of exciting feature length essay films – we are constantly looking for new subjects and potential collaborations. We have a number of projects currently in development. Click here for further info about some of those projects.