The Derek Jarman Lab is the media hub at Birkbeck offering filmmaking training, support and facilities to its postgraduate students. The practical skills we teach are complemented by media theory insights and multidisciplinary collaboration. The Lab is also active in organising events, producing films, and encouraging moving image research.
The Derek Jarman Lab is part of the Birkbeck Institute and is chaired by Colin MacCabe. We are also supported by the University of Pittsburgh.
Our first feature-length documentary, The Seasons in Quincy: Four Portraits of John Berger, premiered at the Berlin International Film Festival in February 2016 and was released in UK cinemas on 23rd June 2017. Go to seasonsinquincy.com or Curzon Artificial Eye for details. To buy a copy of the DVD, or to watch on demand, visit the Curzon Artificial Eye website.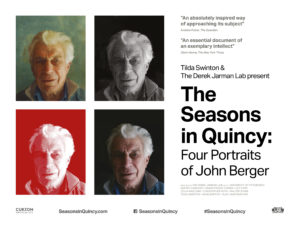 The Seasons in Quincy is the result of a five-year project by Tilda Swinton, Colin MacCabe and Christopher Roth to produce a portrait of the intellectual and storyteller John Berger. It was produced by the Derek Jarman Lab in collaboration with the composer Simon Fisher Turner. It premiered at Berlin International Film Festival in 2016, and made its theatrical release in the UK and Ireland on 23rd June 2017. Visit Curzon Artificial Eye for screening details and seasonsinquincy.com for information about the film.
The Seasons in Quincy is now available to buy on DVD and watch on demand on the Curzon Artificial Eye website.
The Derek Jarman Lab offers an array of training and support for researchers who would like to include filmmaking as part of their practice.
At the core of our teaching is our four day 'essay film course', which is an introductory course covering basic technical filmmaking competencies as well as some conceptual approaches to incorporating film into academic practice.
In addition to this, the Lab has worked with various departments and partners to design and run courses for specific needs: from generalist one day introductory workshops to courses in specific technical skills such as audio editing or subtitling.
To find out more about our courses and the dates of any upcoming events click here.
Our Productions
The Derek Jarman Lab is actively developing a slate of exciting feature length essay films – and we are constantly looking for new subjects and potential collaborations. We have a number of projects currently in development. Click here for further information about some of those projects.
The Seasons In Quincy, the Derek Jarman Lab's first feature length film, premiered at the Berlin Film Festival in February 2016 and is currently screening around the world. Its UK and Ireland theatrical release was on June 23rd 2017. To find out more about future screenings visit Curzon Artificial Eye, or visit the Seasons website for more information about the film. The Seasons in Quincy is currently available to buy on DVD and watch on demand at Curzon Artificial Eye.
Research Films
Working with academics from various fields and disciplines, the Lab produces and supports a number of short research films. Our recent work has involved collaborations with architectural historians, researchers in the medical humanities, and the Foundling Museum in London.
A selection of our research films is available to view here.
[fts_mashup posts=8 social_network_posts=3 words=45 center_container=yes show_social_icon=left facebook_name=DerekJarmanLab grid=yes twitter_name=@DerekJarmanLab column_width=310px space_between_posts=10px]
Our patrons: Keith Collins, Isaac Julien and Tilda Swinton

Bartek Dziadosz
Bartek Dziadosz is the Director at the Derek Jarman Lab. He studied Law in Cracow and Contemporary Media Practice at the Westminster Film School. He made a successful career as a cinematographer and editor before devoting most of his time to the Lab. Bartek has just finished his doctoral research on editing. He was cinematographer on Spring, A Song for Politics and Harvest in The Seasons in Quincy sequence. He also directed A Song for Politics and edited Harvest. His own documentary on the sociologist Zygmunt Bauman, The Trouble with Being Human These Days, has screened around the world.

Lily Ford
Lily Ford is Deputy Director at the Derek Jarman Lab. She produced the feature-length documentary The Seasons in Quincy: Four Portraits of John Berger for the Lab and continues to work on films and research there. She completed her PhD on aerial views and the culture of flight in 1920s Britain in 2015, then worked as Researcher in Residence at the Ben Uri Art Gallery and Museum, and Cultural Engagement Fellow at Birkbeck. Her illustrated cultural history of flight, Taking to the Air, will be published by the British Library in 2018 and she is currently working on a film essay about women in aviation factories in the 1910s and 1920s.

Colin MacCabe
Colin MacCabe chairs the Derek Jarman Lab. From 1985 to 2008 he produced features, documentaries and installations for directors as varied as Terence Davies, Derek Jarman, Isaac Julien, Chris Marker. From 2008 he has devoted himself to research led filmmaking establishing with Bartek Dziadosz, Lily Ford and Sarah Joshi the Derek Jarman Lab in 2012. For the Lab he has produced all the films for The Seasons in Quincy and directed Ways of Listening and A Song for Politics. He is also a critic and in 2017 he published  Perpetual Carnival: Essays on Film and Literature OUP and, with Adam Bartos, Remembering Chris Marker (OR Books) .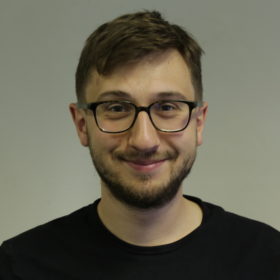 Eddie Bolger
Eddie is Managing Producer at the Derek Jarman Lab. Beyond his role developing and producing projects at the Lab, Eddie is a freelance filmmaker who spent a number of years working in fiction film production after completing is MRes at the London Consortium in 2012. His recent short film GUTS is currently showing on the festival circuit.

Bea Moyes
Bea is a researcher and filmmaker. Following her Masters in Research at the London Consortium in 2013, Bea has developed her own research on the cultural and material history of East London, as well as her work as a filmmaker. Bea worked as assistant producer on The Seasons in Quincy: Four Portraits of John Berger for the Derek Jarman Lab, and is a producer for Smart Docs Limited. She has also developed independent projects, filming with conservation researchers in the Peruvian Amazon in 2015, and with midwives working in Paris in January 2016.

Walter Stabb
Walter Stabb is the Head of Post-production. Walter has worked as an Editor, Assistant Editor and Assistant Producer on documentary projects screened by BBC:Storyville, BBC:Arena, HBO America and at festivals internationally. Since completing the London Consortium MRES programme, where he explored the relationship between documentary film, trauma and animation, Walter has had the pleasure of leading practical workshops for students on editing and overseen the post-production of The Seasons in Quincy.

Robyn Jakeman
Robyn Jakeman is a producer at the Lab and a PhD student in the English Department at Birkbeck. She completed an MA in English literature at the University of Leeds in 2012 and is currently working on her doctoral research on Italian Futurism and its role in the development of British literary modernism. Robyn is developing new sales and exhibition projects for the Lab.

Francis Gooding
Francis Gooding is the Head of Research at the Derek Jarman Lab. He is a writer and researcher. He writes on art, music and film, amongst other things. He worked as a researcher and author on the Colonial Film: Images of the British Empire project (colonialfilm.org.uk). He is a contributing editor to Critical Quarterly, and is the author of Black Light: Myth and Meaning in Modern Painting (2009).
Our new short research documentary, Twins on Twins, premieres on 15th September 2017 at Birkbeck Cinema. Here, director Dr William Viney speaks about the thinking behind the… Read more "'Twins on Twins' Premiere"
Date: 1st April 2017 G10, 43 Gordon Square WORKSHOP/PERFORMANCE organised by The Derek Jarman Lab in collaboration with Rebecca E Marshall A roundtable discussion, workshop and performance… Read more "Meshes of Time"